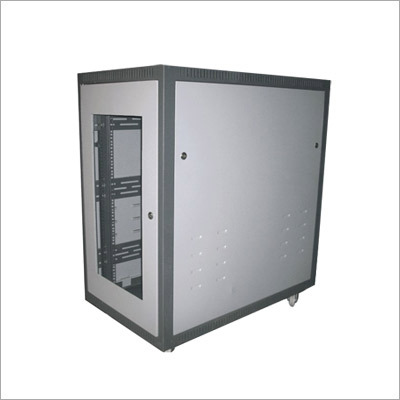 Product Description
Perforated Server Racks

We are counted amongst as the leading manufacturers and suppliers of a wide range of excellent quality Perforated Server Racks. These racks are manufactured using superior quality raw material and latest technology by our experts. The offered racks are available in standard as well as customized specifications as per the requirements of clients. Widely used for IT & telecom applications, we offer these quality tested Perforated Server Racks at industry leading price to the clients.
Special Key Features:
Sturdiness
Highly durable
Robust construction
Dimensional accuracy
Racks Specification' Designed by ROHAN INFOTECH
Front to back heat dissipation
These days all servers pull air from the front and release heat from the behind, hence 65% ventilation is advised now a days on the front & at back side to disperse heat properly. Premier server racks such as dell racks, acer racks, compaq 9000 series universal rack and APC netscape shelter racks, give this type of ventilation in their server racks and have flawless finish, as these are company fitted server racks.
Heat dissipation front side panels
When server is to be installed separately, we provide small holes on the side panels for sufficient heat release. This process is not followed, when racks are installed in bay configuration, as flow of air occurs from front to back and this above technique can not be implemented.
Shipped fully assembled
These rontel racks are assembled completely, after that shipped to the customers' premises or to the client sites, as this helps in the quicker installation of servers and various other equipments to the racks. This eliminates the need of reading the user-manuals and saves valuable time reading assembly units of racks and carrying out the installation of the servers & racks.
Split doors
As these days, more installation & commissioning work is being carried out, hence keeping in mind the spacing issues, we are providing vertical split doors on the front and the back. These can be customized as per the client's requirements, according to their need.
Integrated vertical channel
Offered rontel server racks are equipped with 4 combined vertical channels for power cables and for easy & proper routing of the data and to provide complete support to mounted equipments. These channels also remove the use of additional vertical cable.
Contact Us
Plot no. 4 , lane no 10, Kadipur Industrial Area, Gurugram, Haryana, 122001, India
Phone :+918068214378